Sacred Heart Coventry Mass Setting
The Sacred Heart Coventry Mass Setting is a new mass setting composed by Si Chun Lam and the Sacred Heart Folk Group. The mass setting uses the text as set in the revised translation of the Roman Missal. It is a complete mass setting for melody and guitar consisting of:
Kyrie
Gloria (Glory to God)
Sanctus (Holy holy)
Memorial Acclamations

We proclaim
When we eat this Bread
Save us, Saviour of the world

Doxology & Great Amen
Lamb of God
The Sacred Heart Coventry Mass Setting has been accepted for publication (Ref No 2012/1/387) by the Department for Christian Life and Worship, Catholic Bishops' Conference of England and Wales in January 2012. The musical score is made available for parishes to use free of charge.
If you have any queries or comments, please contact Si Chun.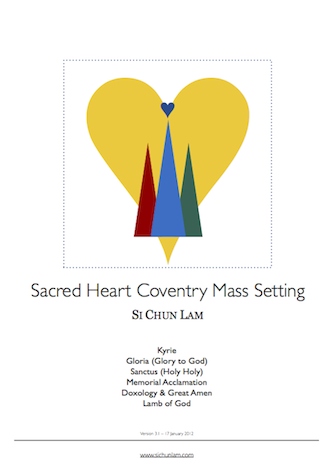 Download musical score (pdf, 812 kB) | View musical score
Download the Agnus Dei (Lamb of God) in four-part harmony (pdf, 504 kB)